Before installing an upgrade to any of the workstation applications (OST/QB), you must ensure that your license server will support the new version. Each Activation Code supports a specific version of the software - versions lower than the indicated version may be authorized, but versions higher cannot be activated. When a version upgrade is released, clients under a current Maintenance Subscriptions will be issued new Activation Codes (available through the Customer Portal.
If your end users download and install any software upgrade and then open one or more databases, they will permanently upgrade those databases. Once upgraded to a newer version, databases can no longer be opened in older versions of the software. Users may lose access to their historic work if they upgrade to a version for which they are not licensed.
On Center cannot restore databases to previous versions and we cannot prevent your users from installing an update they shouldn't.
To check if the currently activated Code supports a new version
Open the Enterprise License Manager Activation Utility
Click (once) on one of the "Activated Codes"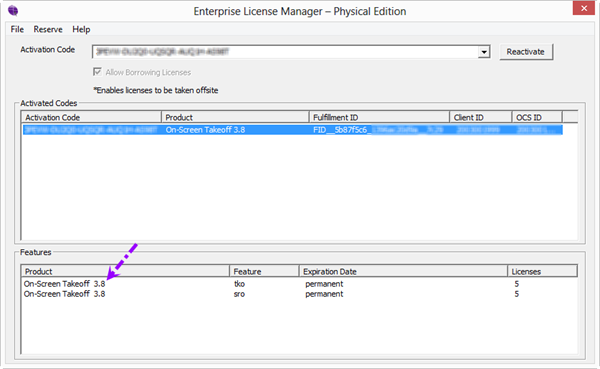 Note the version listed just after the Product (in this case On-Screen Takeoff version 3.8).
In the screen shot above, the version listed is "3.8" so, all versions of 3.8 3.7, and earlier/lower versions may be licensed by this server. Version 3.9 would not be able to activate to this server until the 3.8 code was returned and a 3.9 code activated.
Put here some critical information to draw people attention.If you are and end user and you are unsure if your license supports an upgrade, do not upgrade. Contact your IT department or whoever administers your License Manager. If you install an "unsupported" version, you will only be able to use the product in read-only mode.
If you are an IT person or Network Admin and are unsure if your license manager has the most current licenses, please contact Technical Support before your users install any product upgrades.