Applies to: On-Screen Takeoff, current version, licensed products only. If you are using PlanViewer (unlicensed), you cannot convert files to TIFF inside OST.
Why Convert to TIFF?
Converting PDFs and other CAD plan files to TIFF format creates raster files (images) that typically load faster and require fewer system resources to render. However, it takes time to convert the files to TIFF so we give you the option to do it if need be.
If you're experiencing significant delays when changing pages or opening the Image Tab, and you cannot upgrade your computer's hardware, you may want to convert your files to TIFF to squeeze the best performance out of OST.
How to Convert
If you are going to use Auto Naming, do not convert files to TIFF until after you've run them through the Auto Naming process. Auto Naming converts all files to a slightly lower-resolution JPG file for quick upload and processing. Converting a converted file can degrade the resolution to the point where Auto Naming returns inconsistent or meaningless results. Run Auto Naming first, then convert files to TIFF.
You can convert PDF files one-at-a-time or in batches. If the Pages are created from a multi-Page PDF, all sheets are converted to TIFF automatically when you convert one.
CAD files, such as DWFs can be converted one at a time.
When you initially load non-G4 TIF files into a Bid (in the Cover Sheet), you are prompted to convert to them to G4-TIFF format, this is the only time you can convert these files to TIFFs.
CPC Files are automatically converted to TIF when you load them.
PlanViewer (unlicensed) users are unable to convert their PDFs to TIFFs inside OST.
IMPORTANT!
If you start your takeoff and later convert the underlying image to TIFF, be sure to check your scale and Page Size post-conversion. Dimensions and scale may be slightly different and could cause your takeoff to be skewed or not match the plans.
PDFs
When you open the Image Tab and view a PDF file that hasn't been converted to TIFF, you'll see a prompt offering to convert to PDF. If there are multiple PDFs in the project, the prompt is to Convert All.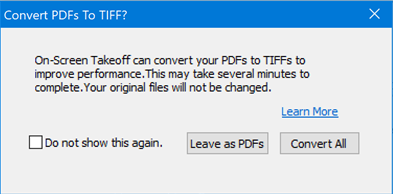 You can also click Image > Convert Current Image to TIFF or click the
button on the Image Toolbar.
If you select Convert All, all PDFs are converted to TIFF format. If you select Leave as PDFs, the original PDFs are used. (Don't worry, you can always come back and convert them to TIFF in the future).
Each file is converted separately and is indicated in the message box. Some files, depending on how complex they are, may take longer than others.
When converting a multi-page PDF, a separate TIF is created for each page of the PDF. Each page includes the file name and an index number from the PDF file (Page 1 of the PDF will be called 'pdf (1).tif' for example).
Converted files are stored in a sub-folder of the original file location named "Converted".
All Other File Types that can be converted
Click Image > Convert Current Image to TIFF or click the
button on the Image Toolbar.
Each Page must be converted separately, however, if you are viewing a multipage DWF, all pages are converted to TIFF.
Converting files can take significant resources and time - please be patient. While a multi-page PDF is converting, your PC may indicate that On-Screen Takeoff has stopped responding - let the converter finish.
See the Related articles for information on enabling higher-resolution images. Make sure this option is enabled before converting.